Jacksonville, FL — "Talking the Tropics With Mike" - updated every single day during the hurricane season.
Brief overview: Tracking weak low pressure near the Florida/S.E. U.S. coast through the weekend. But - overall - the Atlantic Basin is pretty "tame". It looks like things will heat up in Aug. No surprise given the time of year, but we'll also see a more active MJO - Madden-Julian Oscillation - that can lead to more tropical systems. The map below shows the Velocity Potential Anomalies. In simplest terms - the brown lines - over much of the Atlantic Basin - represent sinking air & therefore less convection & a generally more hostile environment for tropical cyclones. The green lines - much of the West Pacific - are indicative of rising air that leads to more convection & is generally more favorable for tropical cyclones. The rising air should spread eastward over the next 2-3 weeks leading to a more active period of tropical systems over the Atlantic Basin - roughly from the 5th or so to the 25th or so of Aug. So stay tuned.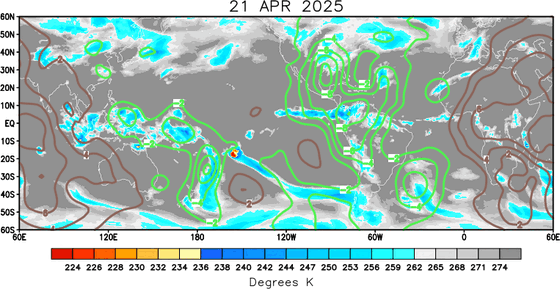 Been a hot summer you say? Well - not so much in Jacksonville. We've had 3 straight months w/ the temps. below avg. & July will be close on making it 4 straight. So summer so far for NE Fl. & SE Ga. has been no worse than "average" & for most areas a little below avg...... which - of course - is still pretty hot. Just not as extreme as it (temps.) could be. 90-degree days is one good way to measure our heat. Through Mon., July 19th, Jacksonville has had "only" 30 90-degree days. With avg. temps. the rest of the year, we would expect about another 40 90-degree days which would keep us below the annual avg. of 82 90-degree days. It's relative, of course but - again - not as hot as it could be. :)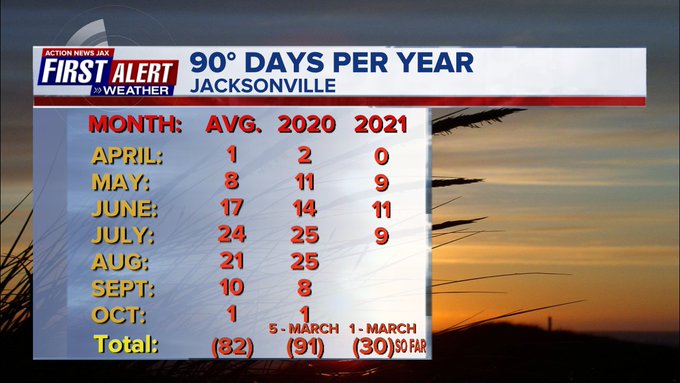 The inner city urban core generally experiences hotter conditions overall - the "heat island" effect that goes with lots of buildings & concrete. Temps. are generally warmer at night & can be noticeably hotter during the day. Duval Co. is blessed to have many parks which does help. The estimate is about a 6.3 degree "bump" for the immediate downtown area of Jacksonville on a summer day of full sunshine. This does not put Jacksonville into the top 20 nationally (3rd image below).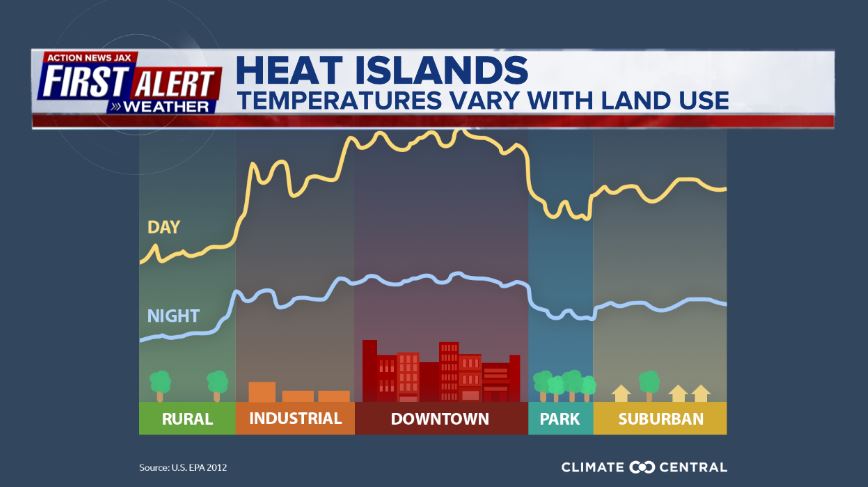 (albedo = how well a surface reflects solar energy)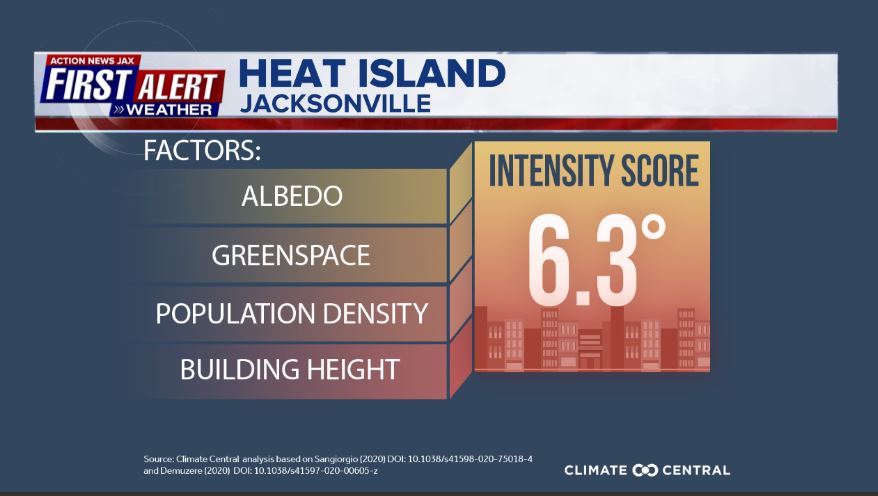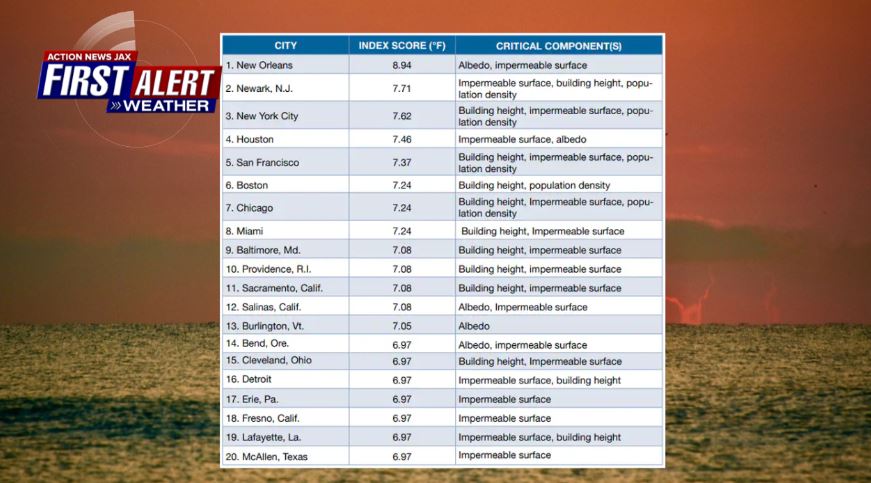 The Olympics are set to begin & will roll into Aug. This is a hot/humid time of year with the avg. high 86-88 degrees F (30-31 degrees C), the avg. low 74-76 degrees F (23-24 degrees C). The image below from Climate Central shows there has been a slow increase in the avg. temp. in Tokyo since 1964 from a little over 78 degrees F to near 81 degrees F. This time of year can be pretty wet too with even the threat of tropical systems.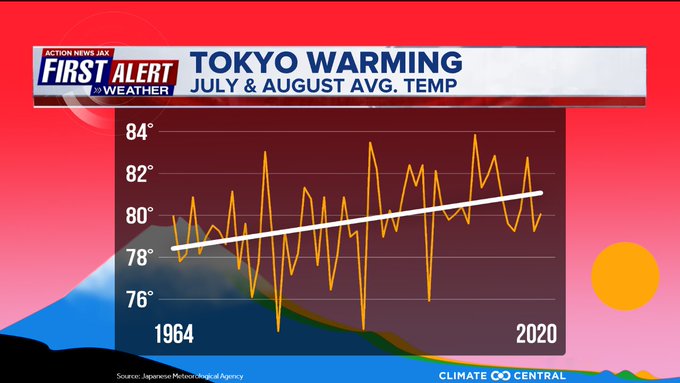 From the Japan Meteorological Agency: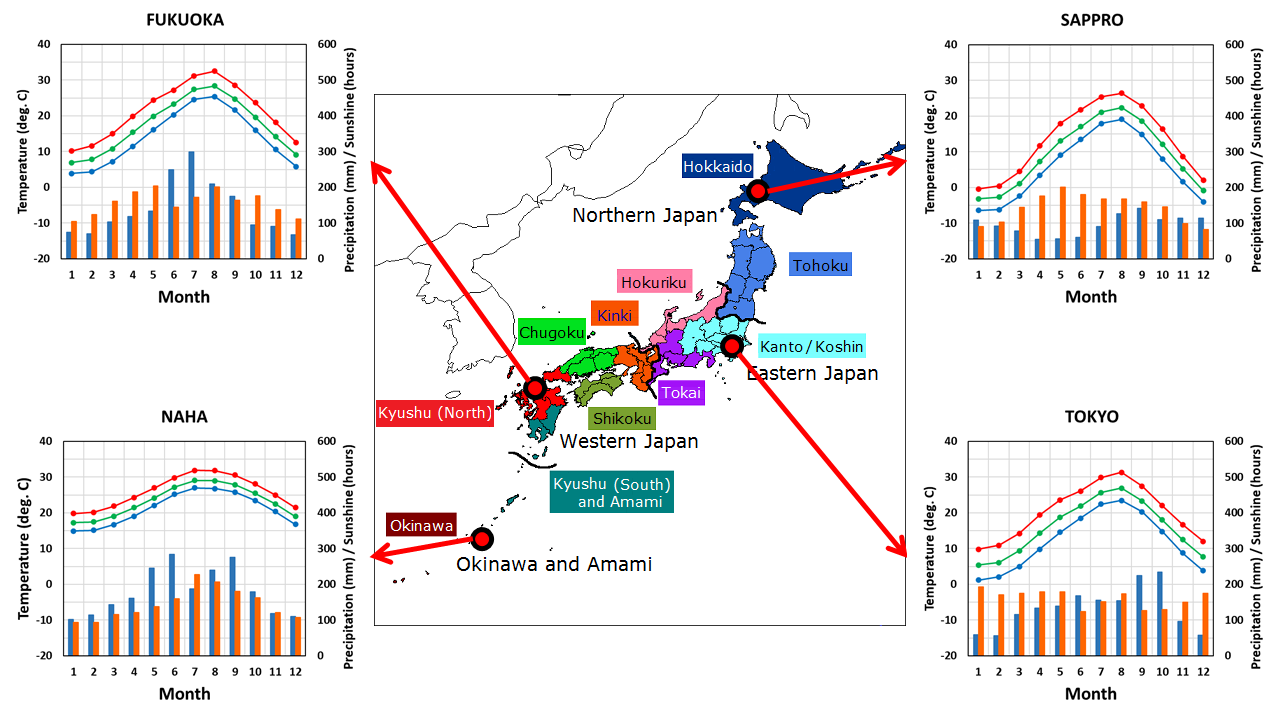 ©2021 Cox Media Group