Oct. 28, 2017 - Photos: Must-see photos of Irma damage in Jacksonville area .... hurricane Irma recap
T.D. #18 likely to become Philippe... tropical storm WATCH upper Keys & SE Fl... no impact on Jacksonville/NE Fl/SE Ga...
The "Buresh Bottom Line": Always be prepared!..... City of Jacksonville Preparedness Guide... Georgia Hurricane Guide.
Tropical depression #18 finally formed late morning Sat. from the long-time disturbance & low pressure area that was over the W. Caribbean.... then strengthening into tropical storm "Philippe" late Sat. afternoon. Conditions remain favorable for intensification through early Sun. before the system encounters strong shear. In the meantime, light to moderate shear, warm ocean water & diffluence aloft will be favorable for further strengthening. While the center is likely to stay just south of Fl., #18 will be close enough to Fl. to produce heavy rain over the Keys & S. Fl. along with gusty winds .... in addition to much of the Central & NW Bahamas as well as Central Cuba. Philippe will accelerate north/northeast then bend back to the north - possibly even northwest - over the far W. Atlantic & near the U.S. east coast as interaction occurs with a strong upper level trough & surface low. Heavy rain will fall across S. Florida but no impact on Jacksonville/NE Fl./SE Ga.
Spaghetti plots below for the Caribbean disturbance:
The very strong upper level trough of low pressure - image below is the GFS model forecast for Sun. morning., Oct. 29th - shows the "buckling" jet stream. The disturbance near S. Florida is t.d. #18. The large trough will guide the disturbance - possibly Philippe - north/northeast.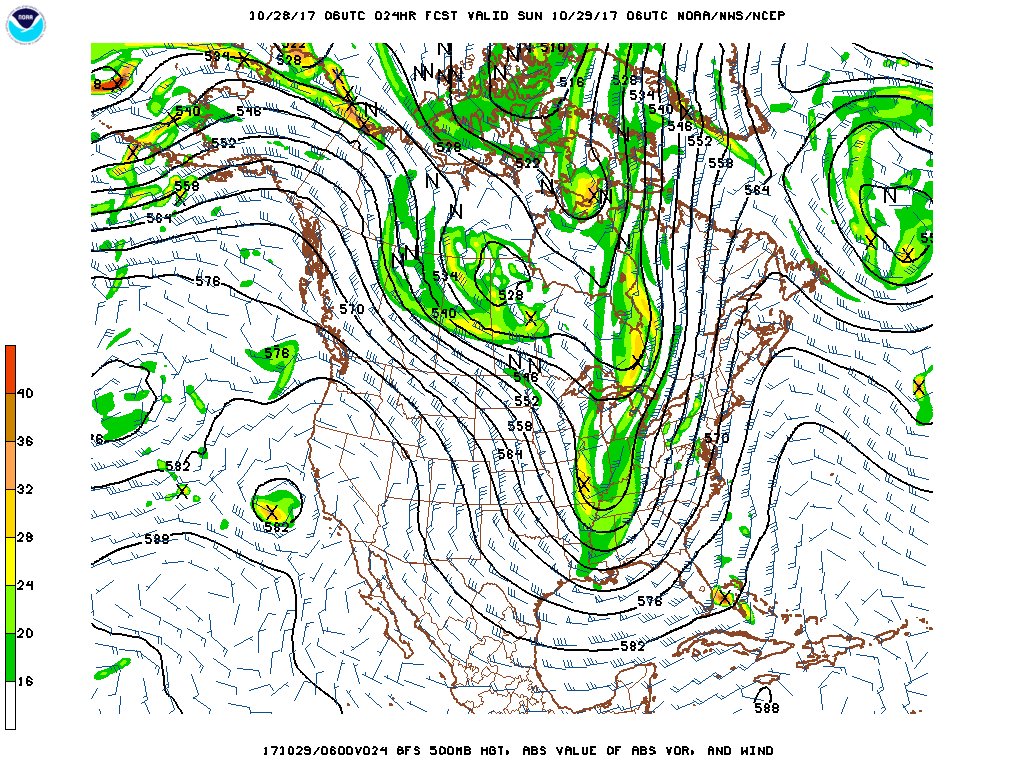 Radar imagery below courtesy S. Florida Water Management District:
Tropical cyclone development the last week of Oct. going back to 1851. So Philippe is pretty classic...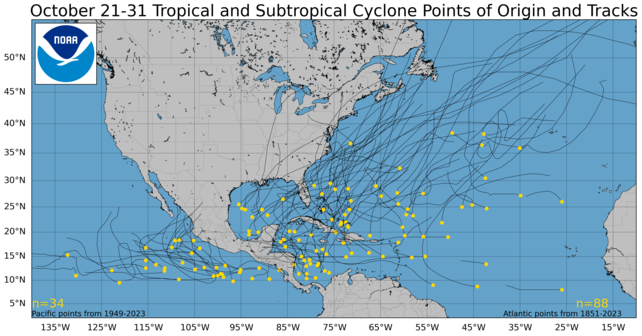 Interesting map below tweeted by Erik Pindrock shows virtually all of Fl. has experienced at least tropical storm force winds this year... as well as the entire Gulf Coast... & as far north as N. Carolina on the east coast:
0
Deep oceanic heat content is still very evident - especially over the Caribbean.....
1
Sea surface temp. anomalies:
East Atlantic IR satellite:
Mid & upper level wind shear (enemy of tropical cyclones) analysis (CIMMS).
In the E. Pacific... tropical storm "Selma" has degenerated into a remnant low upon approach to San Salvador but will still produce heavy rain, flooding & mudslides.
SE U.S. surface map: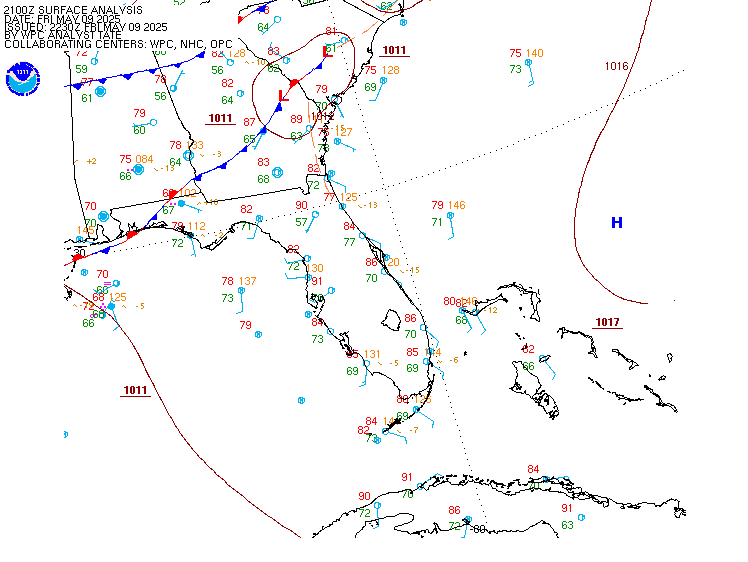 Surface analysis centered on the tropical Atlantic:
Surface analysis of the Gulf:
0
Caribbean:
1
Extensive hurricane Irma recap - click here.
2