June 5, 2019 - The "Buresh Bottom Line": Always be prepared!.....First Alert Hurricane Survival Guide... City of Jacksonville Preparedness Guide... Georgia Hurricane Guide.
STAY INFORMED: Get the * FREE * First Alert Weather app
FREE NEWS UPDATES, ALERTS: Action News Jax app for Apple | For Android
WATCH "Surviving the Storm"
A couple of fronts, surface troughs & upper lows are over the Central Atlantic producing clusters & bands of heavy showers & t'storms but no tropical development is evident nor is expected.
The disturbance over the far Western Gulf continues, but proximity to land + some shear has limited much development. Tropical moisture is surging northward & will contribute to soaking rains along much of the Gulf Coast.
There will be NO direct impact on Jacksonville or any of Fl. but some mid & upper level tropical moisture will spread eastward over the area by Fri. into the weekend enhancing showers & t'storms.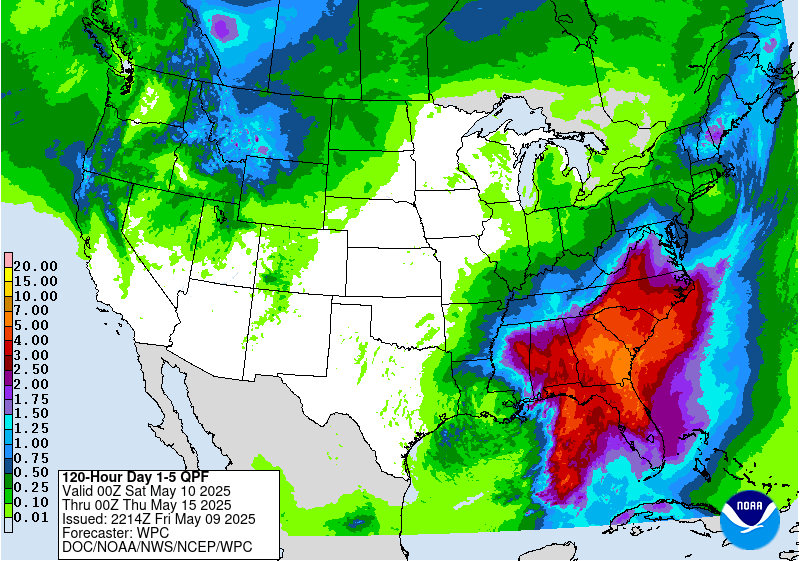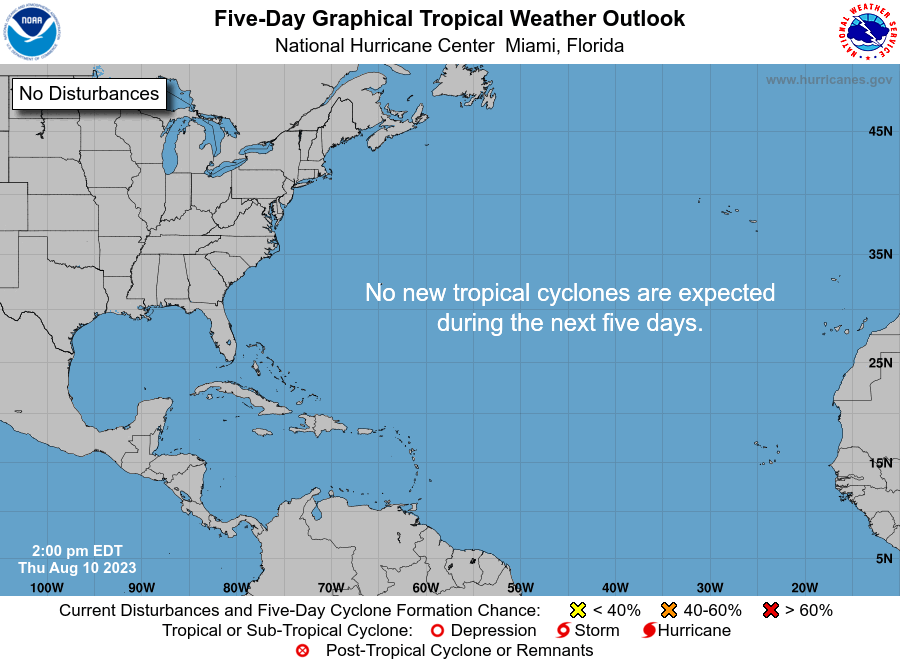 2019 names..... "Andrea" was briefly upgraded in May. Next on the list: "Barry" (names are picked at random... repeat every 6 years... historic storms are retired (Florence & Michael last year):
Seasonal forecasts from NOAA & Phil Klotzbach, Colorado State University (updated June 4 - parenthesis indicates previous forecast):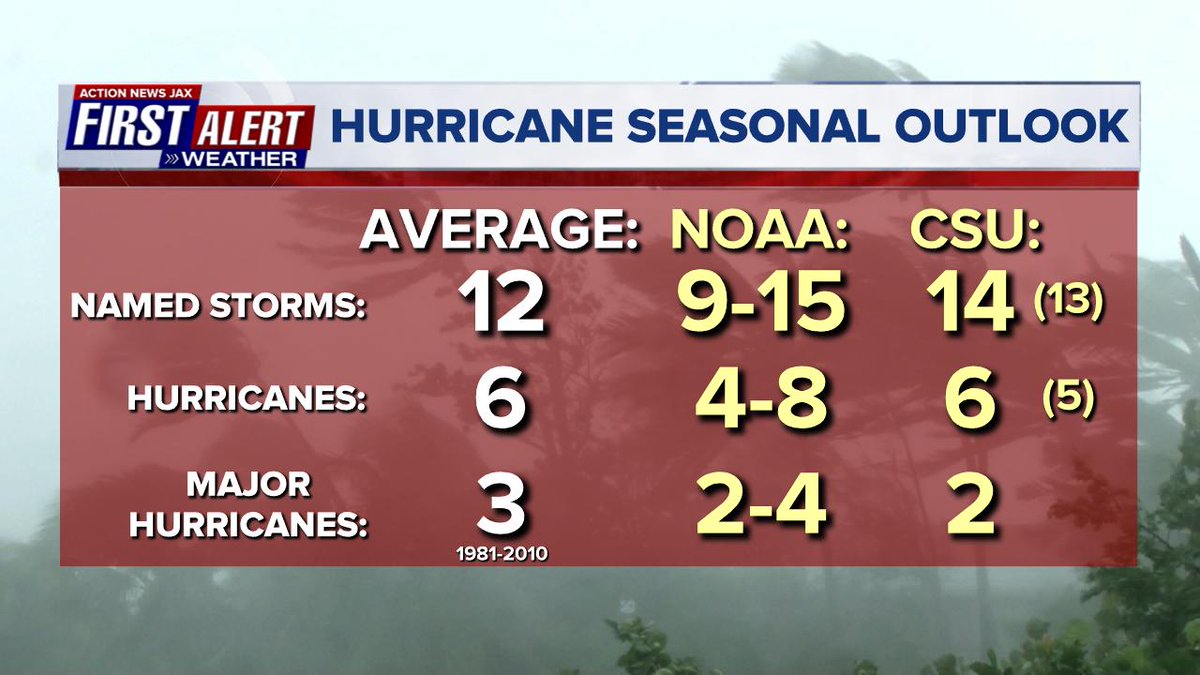 Graph below courtesy Dr. Phil Klotzbach - U.S. - landfalling U.S. hurricnes by month strongly favoring August, September & October: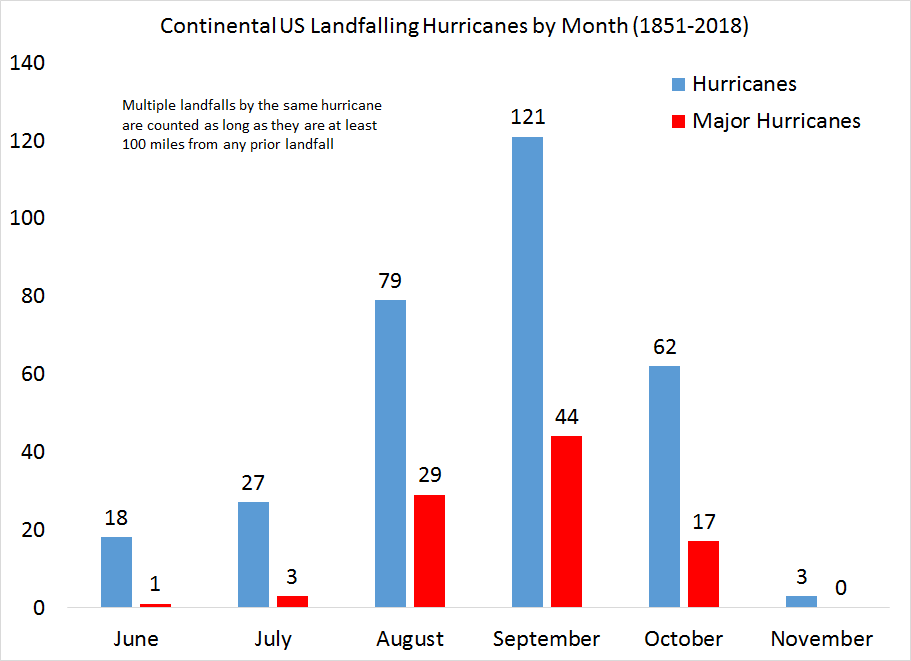 And there's good news with the hurricane forecast cone - it's narrowing because of more accurate forecasts. The cone is often times confused with the size & forecast danger area of the tropical cyclone. In reality, all the cone represents is the potential forecast track error. More * here *. Map below tweeted by @BMcNoldy (Brian McNoldy):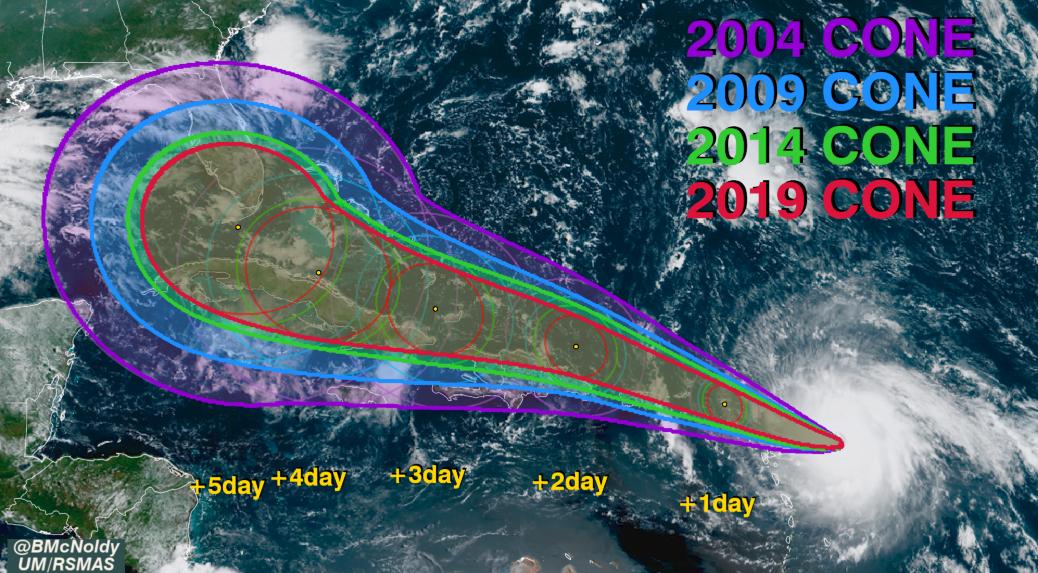 Atlantic Basin: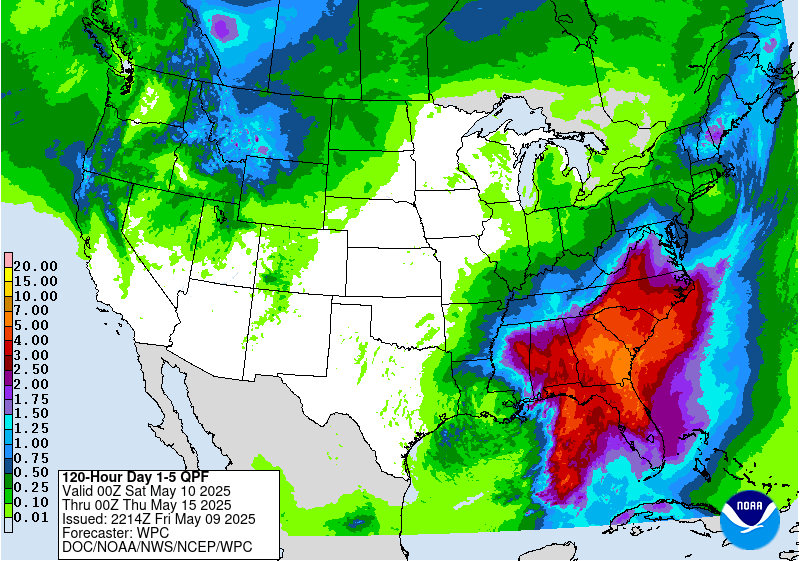 0
East Atlantic: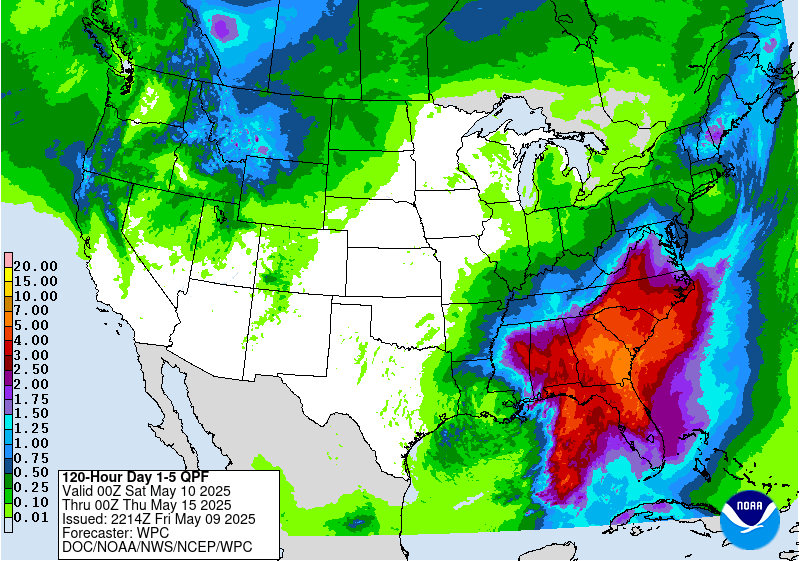 1
Mid & upper level wind shear (enemy of tropical cyclones) analysis (CIMMS). The red lines indicate strong shear of which there is plenty across the Atlantic at the moment:
The Atlantic Basin.....
Water vapor imagery (dark blue indicates dry air):
Deep oceanic heat content:
Sea surface temp. anomalies show some "cool" water over the Caribbean & the deep tropical development region of the Atlantic..... for now:
SE U.S. surface map:
0
Surface analysis centered on the tropical Atlantic:
1
Surface analysis of the Gulf:
2
Caribbean:
3