Jacksonville, Fl. — The "Buresh Bottom Line": Always be prepared!.....First Alert Hurricane Survival Guide... City of Jacksonville Preparedness Guide... Georgia Hurricane Guide.
STAY INFORMED: Get the * FREE * First Alert Weather app
FREE NEWS UPDATES, ALERTS: Action News Jax app for Apple | For Android
WATCH "Talking & Tracking the Tropics: The Science Behind the Season"
WATCH "Preparing for the Storm"
READ the First Alert Hurricane Center "Survival Guide"
***** ALWAYS CHECK & RE-CHECK THE LATEST FORECAST & UPDATES! *****
The Caribbean/Gulf of Mexico & SW Atlantic will probably remain an area to keep an eye on over the next couple of weeks (climatologically favored too).
In the meantime, a couple tropical waves have moved west off the coast of Africa. Shear is strong between the Caribbean & African coast so development seems unlikely....
October tropical cyclone origin points are clustered over the Caribbean, Gulf of Mexico & SW Atlantic: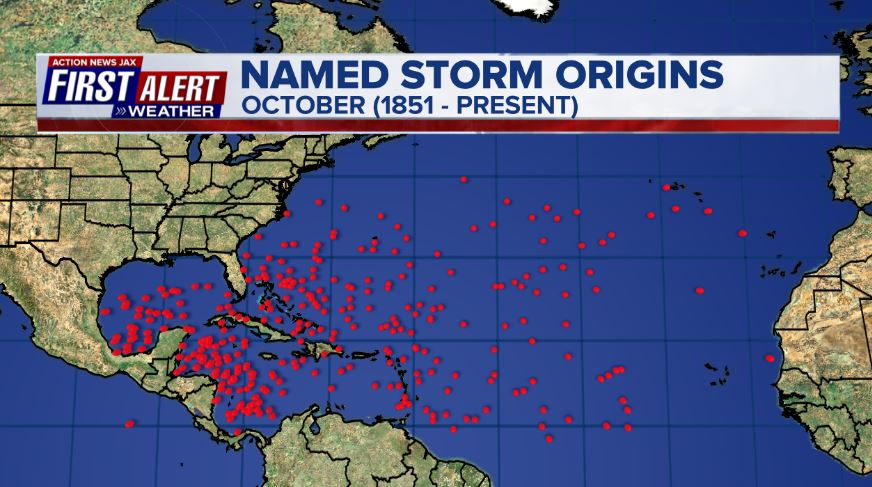 Atlantic Basin wave forecast for 24, 48 & 72 hours respectively (major wave action at Fl./Ga. beaches through early next week due to persistent brisk onshore flow (high pressure to the north) combined with easterly swells from distant Teddy: