Jacksonville, Fl. — The "Buresh Bottom Line": Always be prepared!.....First Alert Hurricane Survival Guide... City of Jacksonville Preparedness Guide... Georgia Hurricane Guide.
STAY INFORMED: Get the * FREE * First Alert Weather app
FREE NEWS UPDATES, ALERTS: Action News Jax app for Apple | For Android
WATCH "Talking & Tracking the Tropics: The Science Behind the Season"
WATCH "Preparing for the Storm"
READ the First Alert Hurricane Center "Survival Guide"
***** ALWAYS CHECK & RE-CHECK THE LATEST FORECAST & UPDATES! *****
The Caribbean/Gulf of Mexico & SW Atlantic will probably remain an area to keep an eye on over the next couple of weeks (climatologically favored too). However, there is nothing that looks threatening through the upcoming weekend.
One of the few tropical waves currently "on the map" - approaching the Eastern/Northeast Caribbean - does not look it will develop much. The wave will produce some scattered showers & storms for parts of the Lesser & Greater Antilles including Puerto Rico through Thu. The wave will continue northwest with shear likely to keep the system "in check".
A couple other areas to watch:
(1) low pressure will be developing over the Central Atlantic through the weekend. This low will move to the west/southwest then turn more westward next week ending up east of Fl. &/or the Carolina's by the middle of next week. Some slow tropical development is possible. The European & UKMET models are the most aggressive right now with this area of - what is likely to be slow to develop - low pressure.
(2) The GFS model in particular has been reasonably consistent in developing low pressure & an eventual tropical cyclone over the Caribbean that then moves north/northeast between Oct. 22 & 28th. Where the potential system would go & how strong it might be has varied considerably from one day to the next with a tendency to delay the development some. The Caribbean is an area favored for late season tropical development + the GFS has been decent at picking up on long range development this season (not necessarily the long term details).
October tropical cyclone origin points are clustered over the Caribbean, Gulf of Mexico & SW Atlantic: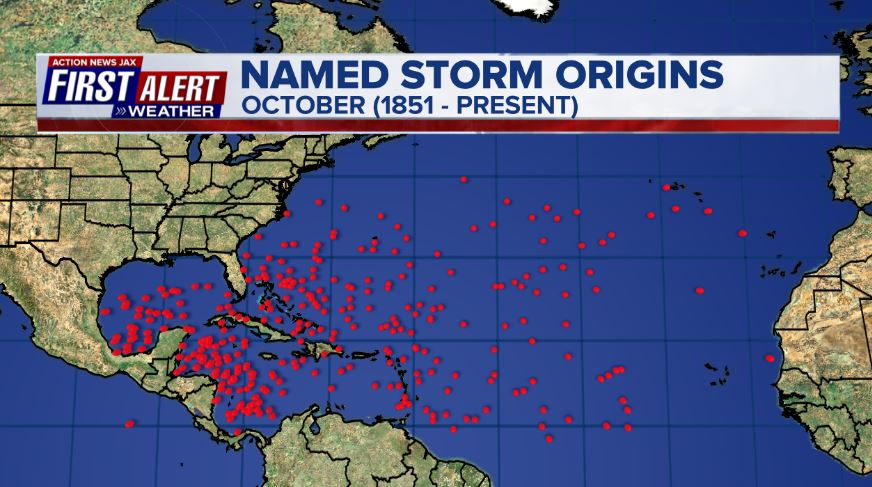 Atlantic Basin wave forecast for 24, 48 & 72 hours respectively (major wave action at Fl./Ga. beaches through early next week due to persistent brisk onshore flow (high pressure to the north) combined with easterly swells from distant Teddy: