Jacksonville, Fl. — The "Buresh Bottom Line": Always be prepared!.....First Alert Hurricane Survival Guide... City of Jacksonville Preparedness Guide... Georgia Hurricane Guide.
STAY INFORMED: Get the * FREE * First Alert Weather app
FREE NEWS UPDATES, ALERTS: Action News Jax app for Apple | For Android
WATCH "Talking & Tracking the Tropics: The Science Behind the Season"
WATCH "Preparing for the Storm"
READ the First Alert Hurricane Center "Survival Guide"
***** ALWAYS CHECK & RE-CHECK THE LATEST FORECAST & UPDATES! *****
*** Low pressure/tropical wave '92-L'/'Potential Cyclone Nine' was upgraded to tropical storm Isaias Wed. evening while over the Eastern Caribbean.... moved over Eastern Dominican Republic Thu. afternoon then offshore & quickly reorganized becoming the 2nd hurricane of the Atlantic season a little before midnight. Isaias is the 5th July named storm over the Atlantic which ties the record for the month set in 2005. It marks the fastest to 'I' beating the previous record set by "Irene" in - when else - 2005.
LOCAL JACKSONVILLE/NE Fl./SE Ga.:
Indications are that Isaias will now fairly steadily strengthen through at least Fri. night / Sat. morning while moving northwest then more northward but not before reaching the southeast coast of Florida Sat. night. followed by a track anywhere from ~50-90 miles - at least - east of NE Fl./SE Ga. with closest approach Sunday night into early Mon. On this track, impacts locally - which *do not* appear severe - for Jax/NE Fl./SE Ga - subject to change!:
-- bands of heavy rain north & northwest of the center Sunday/Sunday night. Amounts ranging from 1-2″, locally more near the coast to a half inch or less west of I-95
-- a dangerous rip current risk at area beaches with rough seas & surf. The best advice is to stay out of the ocean over the weekend... ships & boats should stay in port.
-- an isolated waterspout &/or tornado Sunday/Sun. night.
-- breezy winds of 15-25 mph, gusts 30+ mph at the beaches... 10-20 mph along I-95... much lighter inland west of I-95. Right now I am *not* forecasting sustained winds of 40+ mph which would close down area bridges.
-- overall - as long as the forecast track is accurate - impacts to NE Fl./SE Ga. should be minor & most significant at area beaches. Electrical & business infrastructure should stay intact & operational through & after the closest passage of Isaias.
Isaias remained reasonably well organized after traversing the rugged terrain of the Dominican Republic Thu. missing some of the highest mountainous peaks. Moving at more than 20 mph, Isaias did not stay over land for much more than 8-10 hours. The overall structure of Isaias remains somewhat ragged but aircraft recon is showing better organization & the presence of a more defined eye. The western circulation quadrant appears to be a little less restricted + there's very warm ocean water ahead (Gulf Stream) so strengthening is anticipated. Isaias is still having to battle occasional intrusions of dry air as evident Fri. evening as a swath of dry air moves northeast from Cuba.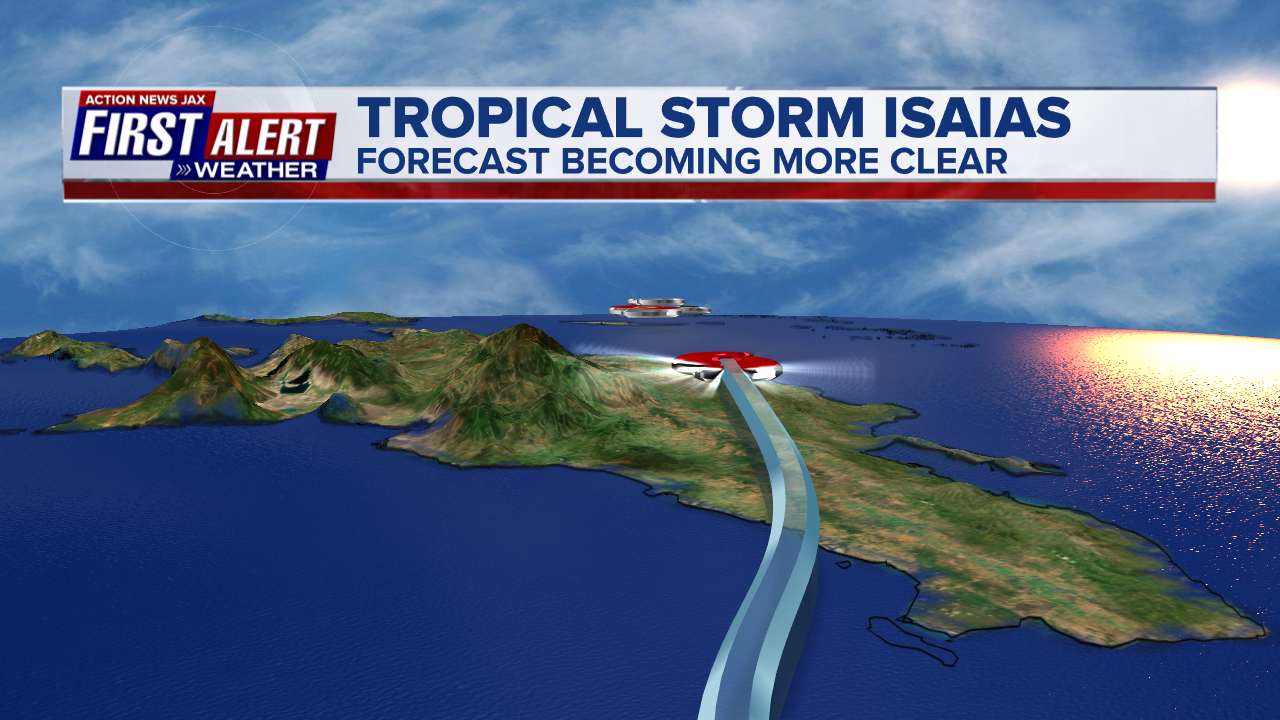 The still somewhat disorganized center has been jumping around as it tries to become consistently couched under bursts of strong convection. Hurricane hunter aircraft about 11:30pm Thu. found a small area of hurricane force winds northeast of the center, so the NHC pulled the trigger on an upgrade. Isaias should slow as it nears the edge of the upper level ridge through Fri. night, & we *should* see more of a turn northwest.
Forecast models have generally started to converge on a solution that takes Isaias through the SW Atlantic & Bahamas then near if not into SE Flordai close to West Palm Beach Sat. night then a turn north/northeast to east of Jacksonville.... to very near the Carolina's late Monday then to near New England midweek. The expectation is for environmental conditions do be favorable enough for Isaias to maintain hurricane strength thanks to warm sea surface temps., proximity to the very warm Gulf stream & possibly some upper level help from an approaching trough before land interaction.
Overall forecast models recently have generally trended north but also more west. There is a good deal of shear (8th image below) in the vicinity of Isaias - on the order of 25-30+ mph - but the shear decreases briefly the more north & west it goes until shear increases closer to Florida due to an approaching upper level trough. There is also some dry air (7th image below) that will likely occasionally infiltrate the system.
There is an alleyway of sorts developing near the U.S. east coast/far W. Atlantic. A more organized Isaias seems to now be sniffing out that alley lending confidence to the more north & east solution in the long run. The approaching upper level trough moving into the Eastern U.S. should help eventually steer Isaias north then northeast. The trough may help with the upper level ventilation of the storm negating some of the effects of potential low level shear. However, it looks there will also be some land interaction over the weekend. The GFS model has recently come in stronger & is still a little east of the operational European & UKMET models & generally agree on a gradual turn north. The GFS remains decidedly faster (by 12+ hours) than either the European or UKMET models. A compromise between all three is the prudent route at this juncture & probably will end up closest to reality. Of note... the UKMET showing a ricochet-effect by sort of "bouncing" Isaias off the SE coast of Fl. then abruptly turning N/NE. The combination of frictional effects from land + the approaching trough make such an outcome plausible. Either way, the eye of Isaias looks to stay well east of Jacksonville in the long run & if not, the tropical cyclone will be over land for a longer period of time before reaching Jacksonville's latitude causing significant weakening & thereby not increasing the impacts much more than currently forecast (at the top of this blog).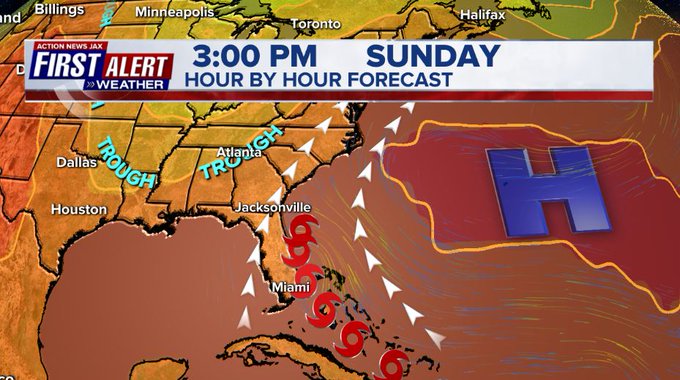 Westward shift in the model spaghetti plots:
Current shear:
Dry air:
As for rainfall... there is the potential for some pretty decent banding of rain north & northwest of the center as "Isaias" approaches NE Fl./SE Ga. The combination of strong onshore flow (winds out of the east), surface convergence & friction should develop enough banding to produce as much as 1-2″+ of rain close to the coast. These bands will be capable of producing wind gusts of 30+ mph as well as isolated waterspouts with most of the rain falling between noon Sunday & noon Monday.
Projected path of Isaias in red vs. Floyd, 1999/Matthew, 2016/Dorian, 2019. It should be noted that Floyd, Matthew & Dorian were considerably stronger & larger tropical cyclones....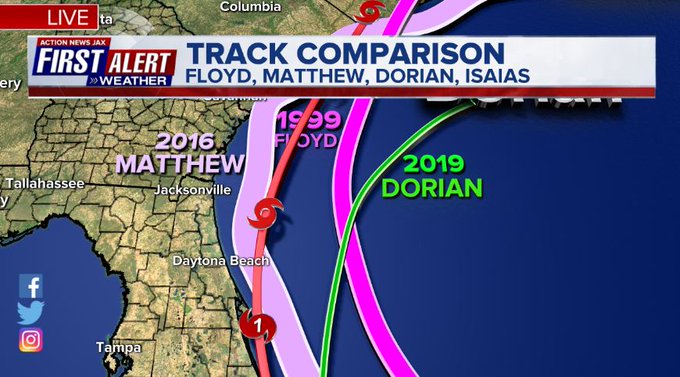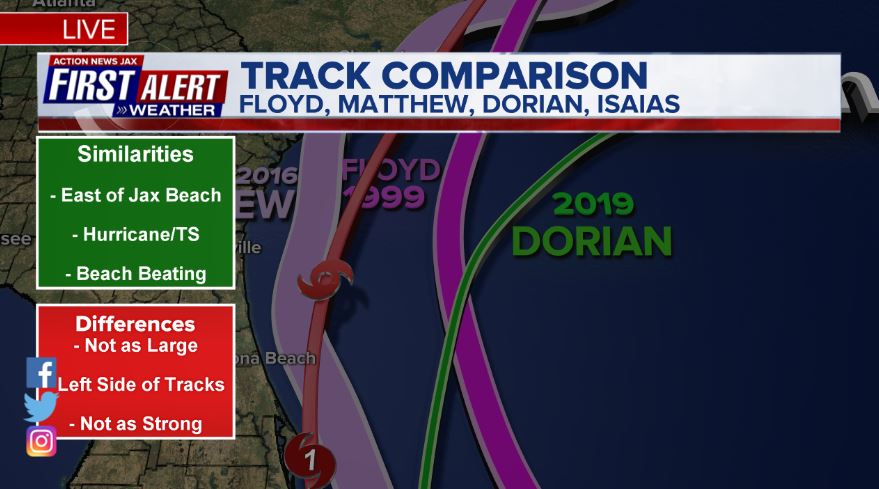 Meanwhile... a tropical wave has some potential to develop over the Central Atlantic while moving northwest. And t.d. #10 has formed just off the coast of Africa over the far E. Atlantic. There's some potential for short term development but the depression should fall apart Sat. night/Sunday & dissipate.